I am putting these notes here for others.
S/V Fizzgig, a 2015 L450F was commissioned as a 240VAC 50Hz EU boat.
We are in the US so I needed to support dual voltages/frequencies.
In the past few months we have added and changed quite a few things. The schematic here has details as does this text.
swapped out the AGM batteries for a 122KWh (960AH @12.8V) Lithium Iron Phosphate Battery battery pack.
added 2x 3600W Isolation transformers
swapped out the masscombi inverter-charger for a 5KW @240VAC Victron Quattro inverter-charger.
swapped out the mastervolt 60A solar charger for a Victron 150/35 MPPT charger.
added a 120VAC 3000W inverter to supply 120VAC loads.
added a 120VAC electrical panel for 120VAC loads.
added a victron cerbo GX to monitor and control the system.
swapped out the candy washer-dryer with a Splendide (the candy died.. and was dumb!)
added an autostart device to the Onan genset to allow the victron cerbo system to start and stop the generator on demand.
swapped the 220VAC microwave with a new 120VAC microwave (the old one died)
a custom hot water circulator to prevent the waste of water when the owners side wants a hot shower.
installed the head unit for a KVH communications system in the electronics area.
Added Wakespeed 500 alternator controllers to keep the alternators safe.
2000-2250 Watts of solar on a custom rack based on Scott Doran's S/V Muskoka design
KVH dome on the above solar rack.
cell phone repeater/amplifier.
replaced all start batteries (gen-set/port-start/end-start)
Replaced the shore-powered genset battery charger.
Added EasyStart Soft Starters to all the AC units.
---
All of these systems have been installed and designed so a power or electronics geek does not need to be onboard to operate them
---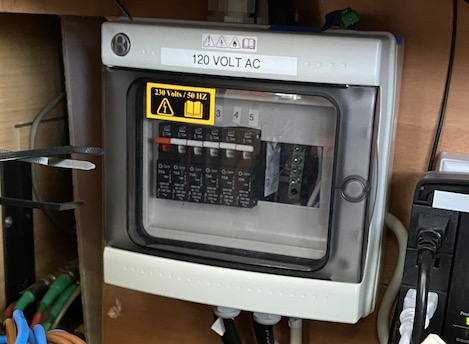 The 240VAC consumers were left alone (Watermaker, dishwasher, HVAC units etc). They run off the existing 240VAC panel in the 'technical room' on the starboard side of the boat. All 240VAC power runs through the 5KW inverter charger.
The air-con can bypass the inverter from shore if needed. I find I can use the air-con on inverter if needed.
The 120VAC consumers are:
House outlets (guests and myself plugging in chargers or small appliances)
Microwave (Rated at 12A but I have not seen that)
Splendide Washer/Dryer (rated for 10.5A but I have not seen that yet)
The overall 110 subpanel is protected by a 25A fuse.
I used 10A fuses in my 120VAC @60Hz sub-panel as the existing AC wiring on the boat was 16AWG and 14AWG. None of the loads individually should use more than that.
We installed all Victron on our previous boat outside the battery pack. I took great pride in that anyone was able to tell, at a glance, what was going on with power generation and consumption. I don't like 3 page handwritten instructions of "twiddle this and shake that" to get basic things like power.
I really like the remote VRM system that Victron provides. The remote control has saved our bacon a few times.
---
A note on 50 vs 60Hz power consumers:
You do take a chance when running 220-240VAC/50Hz equipment on 120VAC/60Hz. It can be trial and (expensive) error.
These are the 220VAC appliances that are running @ 60Hz:
Ice Maker
Dishwasher
Watermaker
Hot Water Heater
Air Conditioners
The dive compressor is not yet hooked up and will run off gen-set power exclusively so I am not terribly worried about it.
They all appear to be running properly. The Air-con units do run faster when they are on shore power compared to pure inverter or gen-set (50Hz).