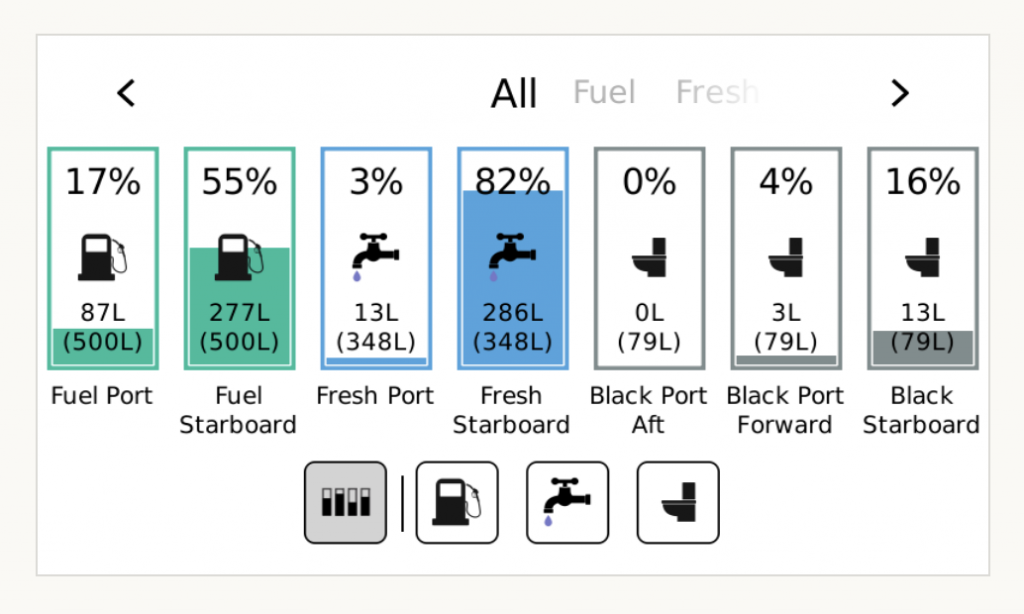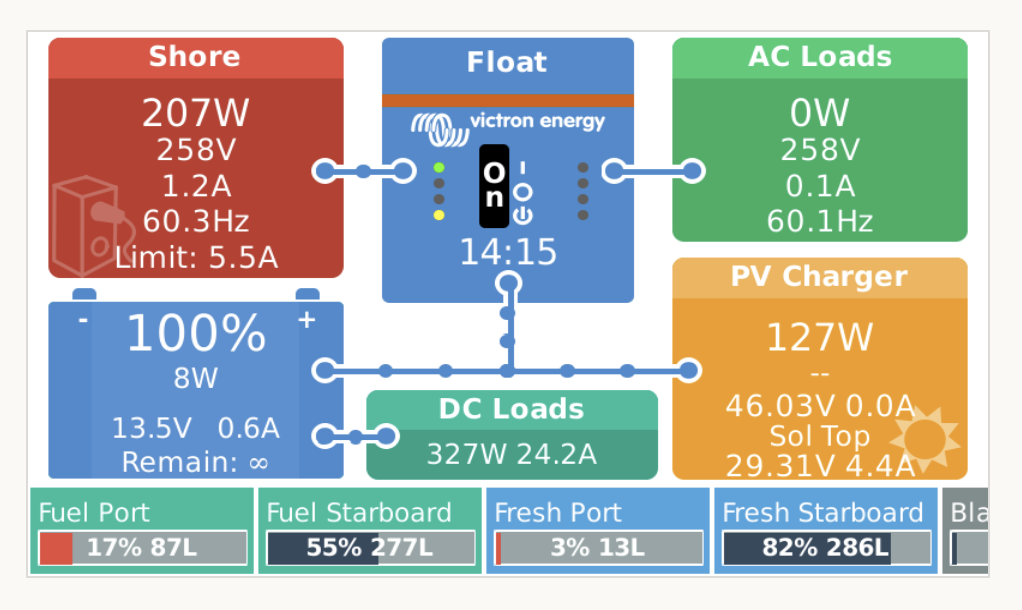 Black water tanks, poo-tanks, crude tanks or ick tanks. Keeping track of how full they are is not a fun task.

On this and our last catamaran the tanks are wall mounted above the heads and only hold 81 liters (21 US gallons, 0.69 Barrels). This limited storage means we have to be aware of what we are holding in between pump-outs while at the dock or "sails to the pump-out" when you are anchored. This level tracking can cause some anxiety among members of the crew. *cough* Caroline *cough*


Over the years we have developed several methods of checking tank levels without sensors. We have used our 2-million candle power flash-light, aiming it down through the roof of the tank to highlight and create shadows of the level of the "stuff" inside. We have also had an embarrassing overflow happen. We have also counted the flushes we were allowed per pump-out.
A note on the overflow method; it smells, it is embarrassing, and you can clog the tank vent. Clogging the vent can pressurize your black water tank. This pressure can cause a geyser of poo when you open the pump out deck access. This one trick can maker dock-tenders and pump-out boat operators hate you.

To reduce this anxiety, I have researched and tested all sorts of methods to monitor the tanks in our new-to-us Lagoon 450 in a more civilized way. This Lagoon has 8 tanks. 3 black water tanks, 2 fresh water tanks, 2 fuel tanks and a propane tank.

Here are our findings and research:

The VDO system installed by Lagoon: We consider it kind-of accurate. It does not monitor waste tanks at all. There are many complaints about it online. We don't love it. This is the manual I have found for this device.

Garnet SeeLeveL: We installed this system on our last cat. This system uses MODA sensors. MODA sensors are a non-invasive exterior tank level sensors. The sensors are attached to the outside of a plastic or fiberglass tank eliminating the possibility of sensor malfunction due to fouling by tank contents. These will not work on a metallic tank unless the MODA sensors are inside a plastic tube that sits in the poo. Our SeeLevel never worked right. Maybe they have gotten better in the last few years.
Display: $250
Sending or tank units: $109 ea
Number of tanks: 7
NMEA or other: Bluetooth to an app, no NMEA or other external integrations.

Vessel Systems Monitor Tank Sender – Blue Sea Systems: These are ultrasonic devices that bounce soundwaves off the surface of the poo and then report out that reading. You program them with a Blue Sea proprietary display like the M2 Vessel Systems Monitor.
Display: $319
Sending or tank units: $85 ea
Number of tanks: 2 or 4.
NMEA or other: NMEA or other external integrations.

Victron CerboGX using the built in WEMA sensors for fuel and water: I ran a 16AWG pair of wire to each of the WEMA senders on my fuel and water tanks to the CerboGX to monitor freshwater and fuel levels. I found that this method worked but was WAY bad as far as accuracy. I would show a full tank at one moment and then at another time the tank would show almost empty. There had to be a better way. We also had no way to monitor the poo tanks.

Victron CerboGX using the GX Tank 140 devices and submerged Liquid Tank Sensors: I used the same 16AWG wires to connect to these sensors and I find they work well, have good accuracy and are really easy to install.
Display: The Cerbo you already have. If not it is $300
Sending or tank units (Liquid Tank Sensors): $50 ea
Number of tanks: 4 to 16.
NMEA or other: NMEA or other external integrations like VRM etc.
Things you will need
Put it all together
Fresh and black water tanks:
The pictures tell a story!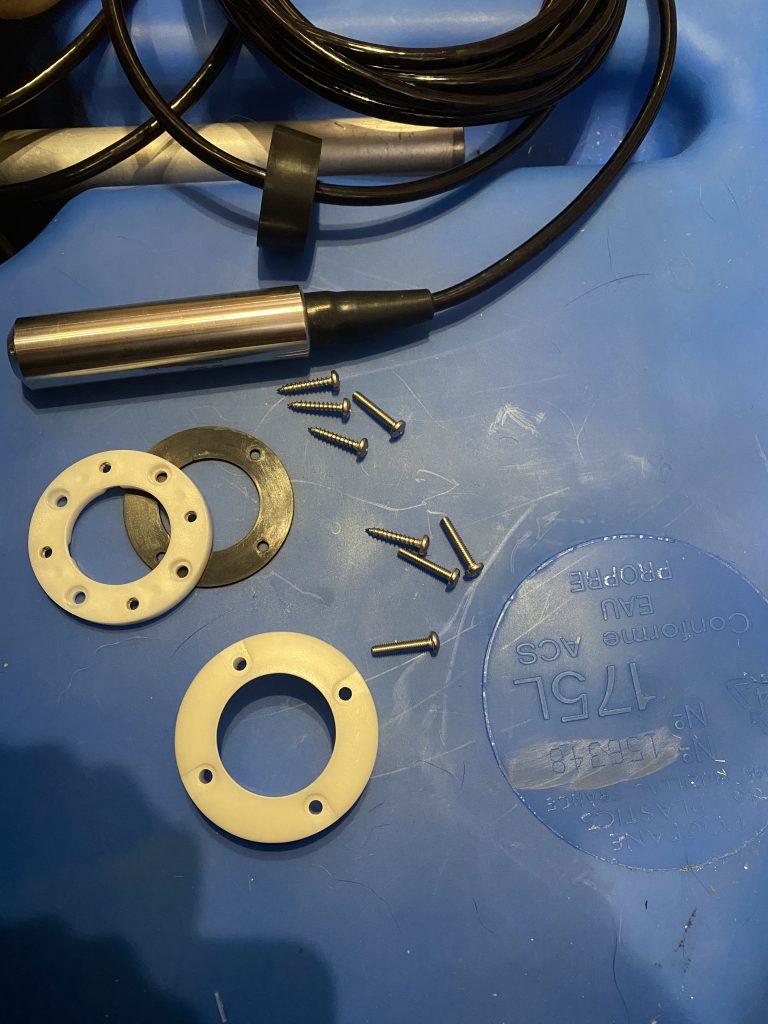 Fuel tanks:
1. Screw the two bushings together to reduce the size and allow for the aluminum gland to be connected.
2. Thread the cable through the gland.
3. Remove the existing fuel sensor.
4. Drop the sensor into the tank so it lays on the bottom and there you go!
I used the -yellow- Teflon sealing tape to seal all my threads.
Cerbo Configuration
The sensors are current sensors.
You will need to calibrate for a full tank and and empty tank.
Set the mA seen for full and empty
Note these numbers somewhere so you can re-input them if something goes sideways with the Cerbo.
Set the name of the tank and the type of fluid being measured.
Wiring Diagram