This is a recipe for a water circulator to turn on a water valve that directs not-yet-hot-water back into your freshwater tank while your pipes are heating up. This system saves significant water that would otherwise go overboard while the water comes up to shower-temperature.
Ingredients:
Whale X High Performance 15 mm Tubing for Quick Connect Plumbing System
a. Outside Diameter: 15mm, Color: Red = Hot Water Line
b. Model number: WX7164B
Whale Quick Connect Plumbing System Fitting
a. Type: Straight Adapter
b. Connections: Adapts 15 mm, Tubing to 1/2″ BSP Female
c. Whale Model #: WX1532(B)
APIELE All New Design 10 Amp 22mm Latching Push Button Switch 12V Angel Eye LED Waterproof Stainless Steel Round Self-Locking 7/8" 1NO 1NC (10 Amp/Red Led)
Miscellaneous bits of small gauge wire and hose clamps.
Steps:
1. Drill 2 19 mm (3/4 inch) holes in the floor of the cabinet next to the owners toilet. See red and black circle in drawing below.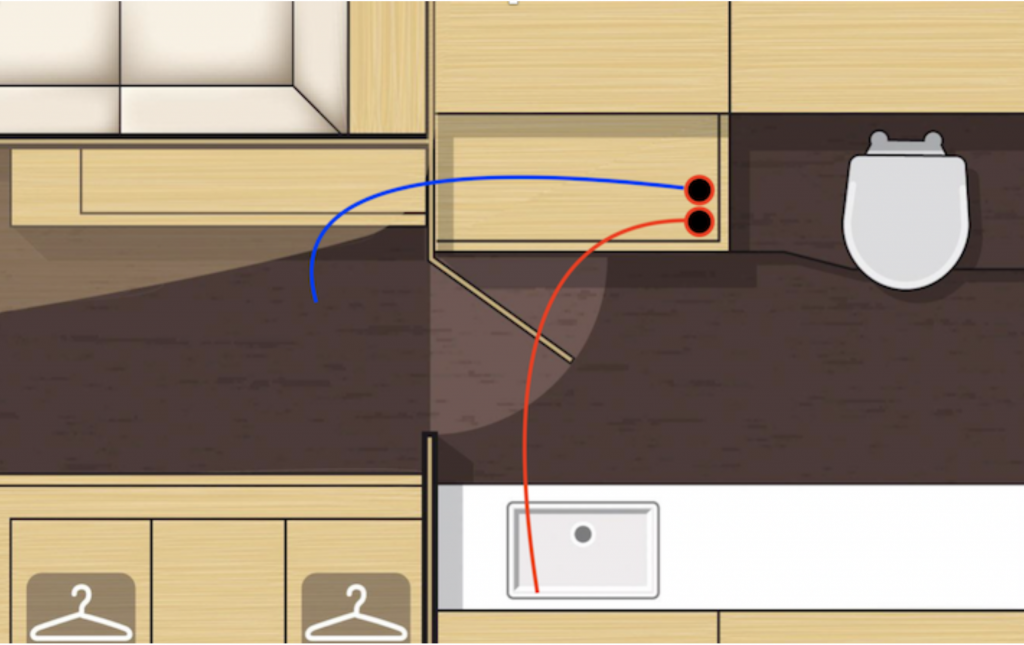 2. Run the 15mm plastic tubing (part 3) from beneath the sink, under the floor to the one of the holes you drilled in step 1. (Shown as a red line in the drawing above.)
3. Run the clear vinyl tubing (part 6) through the other hole you drilled in step 1 to the water tank. (Shown as a blue line in the image above.)
4. Open the inspection hole in the water tank.
5. Drill a hole in the water tank and install the Thru-Hull Connection (part 7) in the tank.
This allows the water to return to the freshwater system rather than overboard!
6. Attach the vinyl hose to this barbed fitting with hose clamps.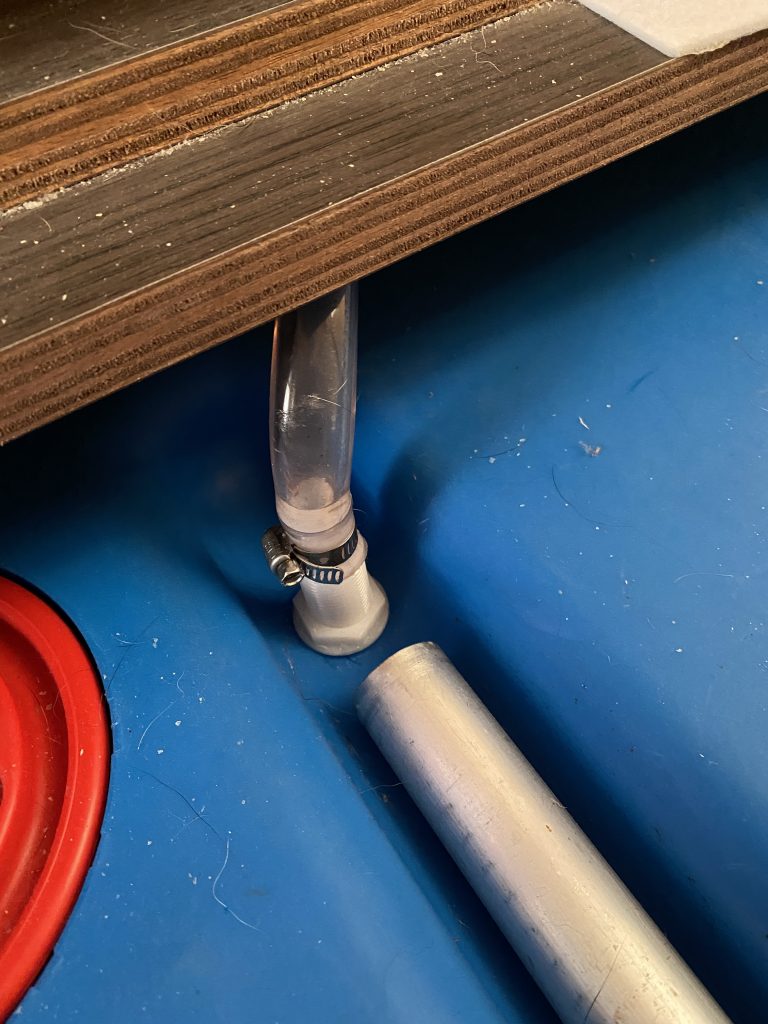 7. Place the solenoid controlled water valve in the cabinet above the 2 holes drilled in step 1.
8. Attach the valve to the 15 mm tubing and the vinyl tubing using part 4.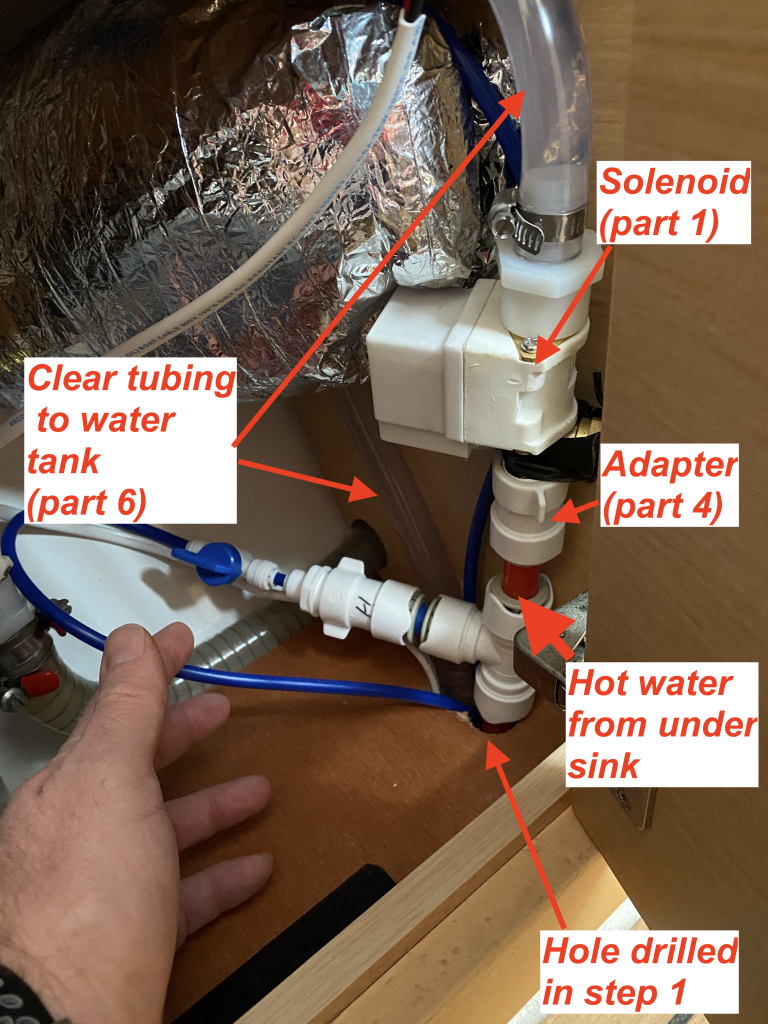 9. Turn off the pressure pump to the boat or disconnect from shore water.
Turn the hot water on in the sink to relieve the pressure in the lines.
10. Under the sink disconnect the incoming hot water line from the Tee.
11. Insert the Whale 15 mm Stem Tee (part 2) into the Tee.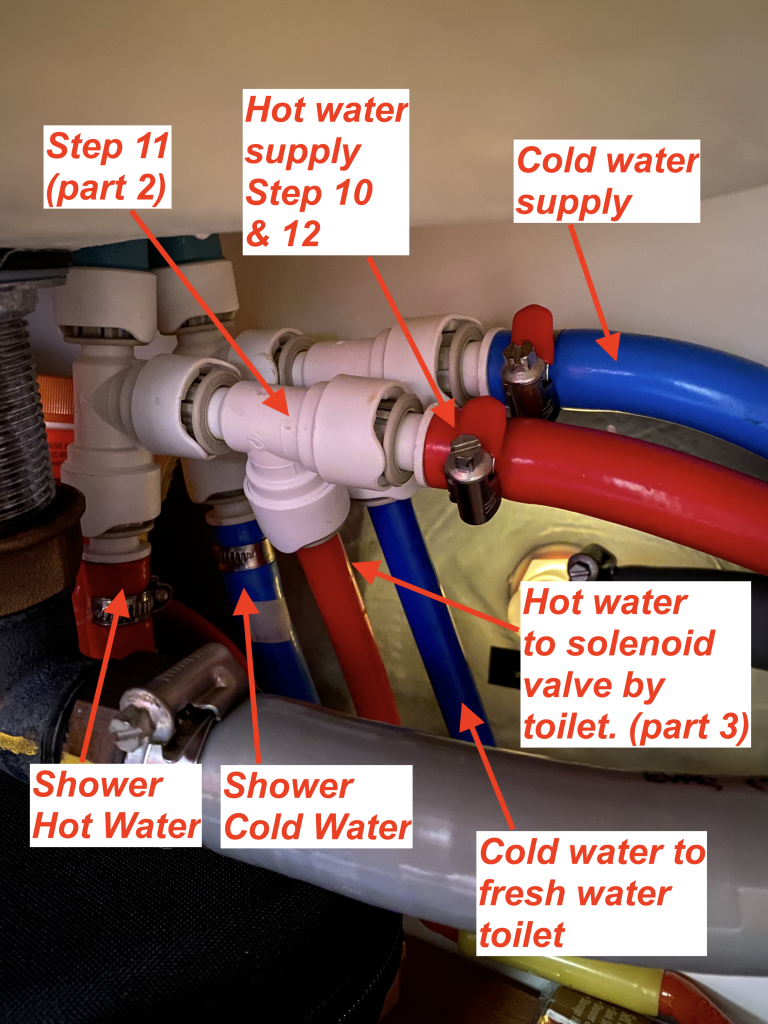 12. Reconnect the incoming hot water line to the stem Tee
13. Connect the 15 mm tube from step 2 to the stem Tee.
14. Re-pressurize the system and check for leaks.
15. We drilled a hole for the switch (part 8) where the toilet paper roll was hung. We moved the toilet paper holder into the cabinet across from the toilet.

16. We ran a new power line for this solenoid and timer device.
---
Wiring and setup:
Program the timer per these instructions: https://m.media-amazon.com/images/I/81zYLxU4Q5L.pdf

I set ours to 30 seconds of ON and when powered. To get 30 more seconds of pre-warm the end user needs to turn the unit off and back on. This 30 seconds gets just enough water from the hot water tank to give the shower user warm water. The wife is happy with and approves of this timing.

The wiring for the programmable timer looks like this: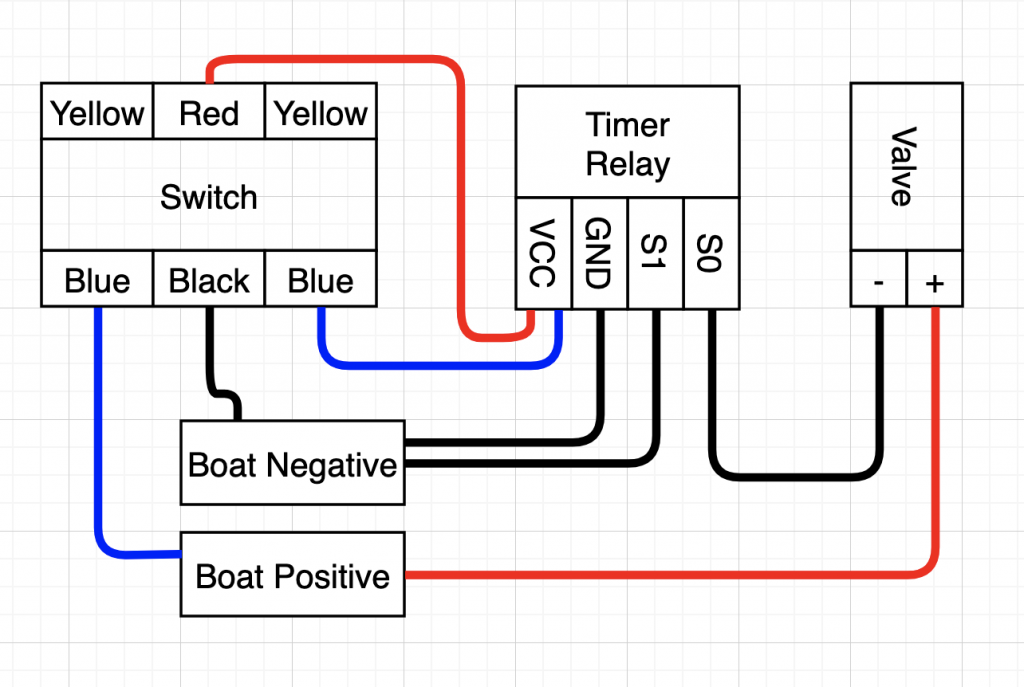 The wiring for the Time Delay on Release Relay – 12V DC, 30 Amp looks like this: