Goal: We want your professional opinions regarding how much settling or detuning is expected on a rig after a tensioning.

Short background:
Fizzgig is a 2015 Lagoon 450 Flybridge model Hull Number 408. (Hull ID: FR-CNB45408A515)

On Jan 6, 2022 after a factory authorized reinforcement procedure our shrouds were tensioned (dock tuned) near Deltaville, VA to a tension of: Port: 5820 lbs and Starboard: 5680 lbs.

The dock tune was performed using these manufacturer recommended settings.
Tension was measured using this device.
On Jun 15-2022 we returned to the yard near Deltaville after a trip to the Southern Bahamas and back.
No major seas, no major wind loads. Caroline drives the boat and she is very conservative with weather and travel. We asked the yard to re-measure the tension of the shrouds: Port: 5280 lbs and Starboard: 5320 lbs
| | | |
| --- | --- | --- |
| Date | Port | Starboard |
| Jan 6, 2022 | 5820 | 5680 |
| June 15, 2022 | 5280 | 5320 |
| Difference | -540 (10%) | -360 (6%) |
The yard: We used AND TRUST Zimmeran Marine for the reinforcement procedure. Their work is well done and per an agreement with Lagoon. I am asking for a second opinion in an abundance of caution.
Long Background:
Suggested photos as you requested for this engagement:
-Zoom in on boat name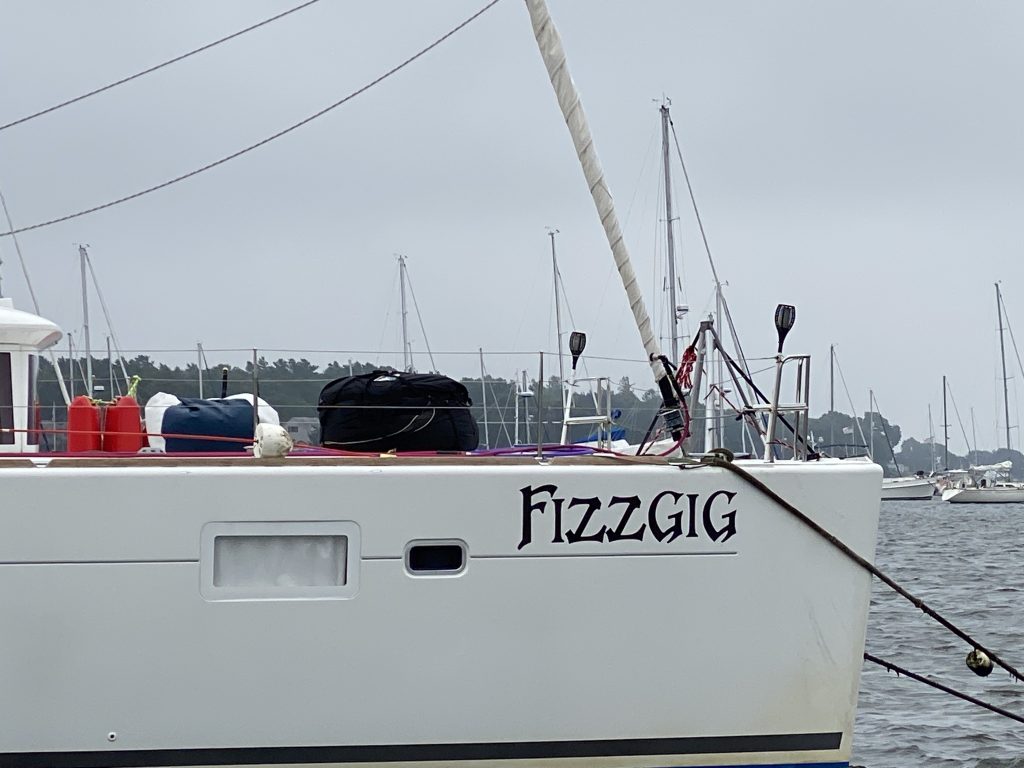 -Facing forward from cockpit to bow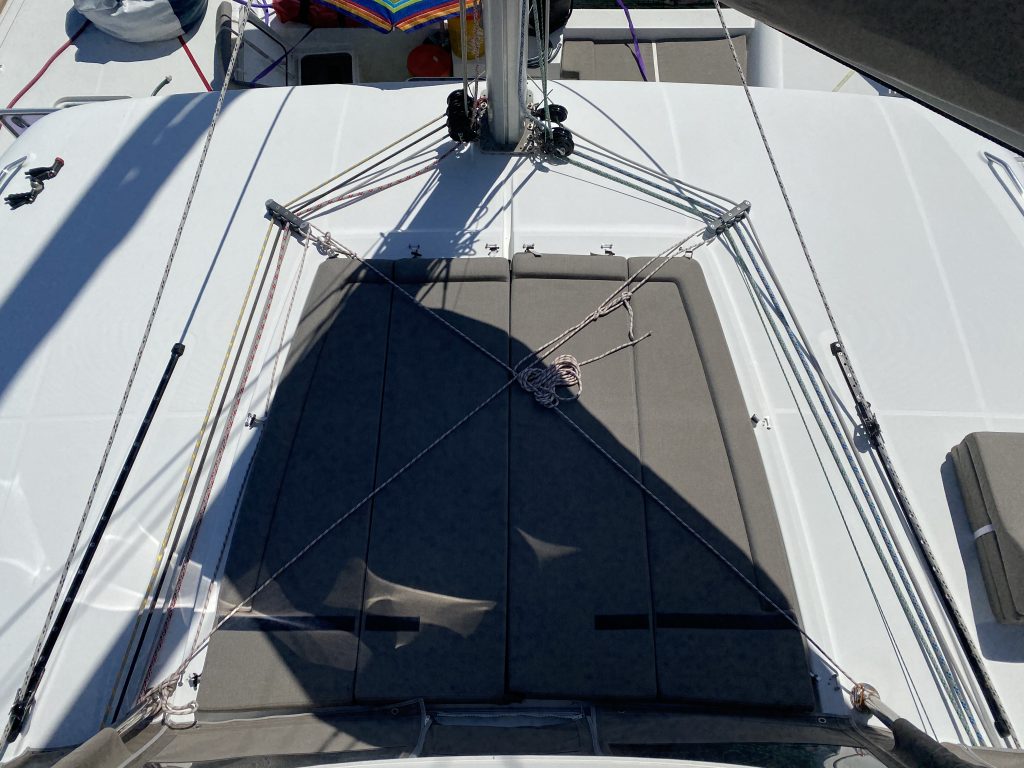 -Facing aft from mast to cockpit (deck organization)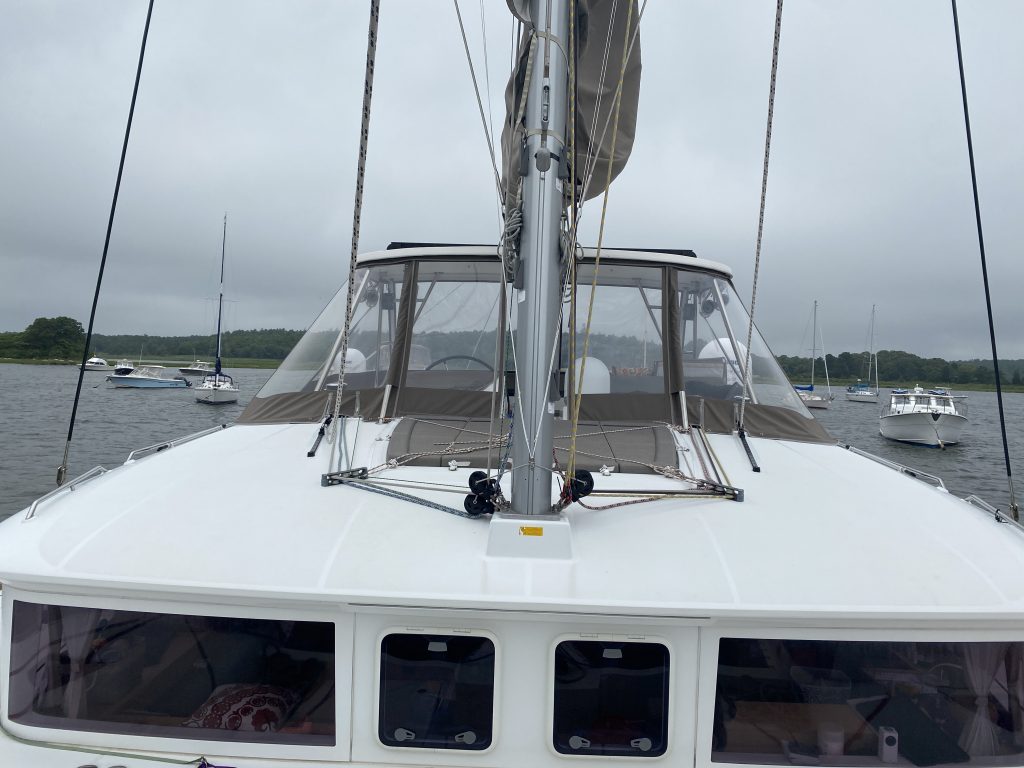 -Foredeck from mast (do not have yet)
-Furler drum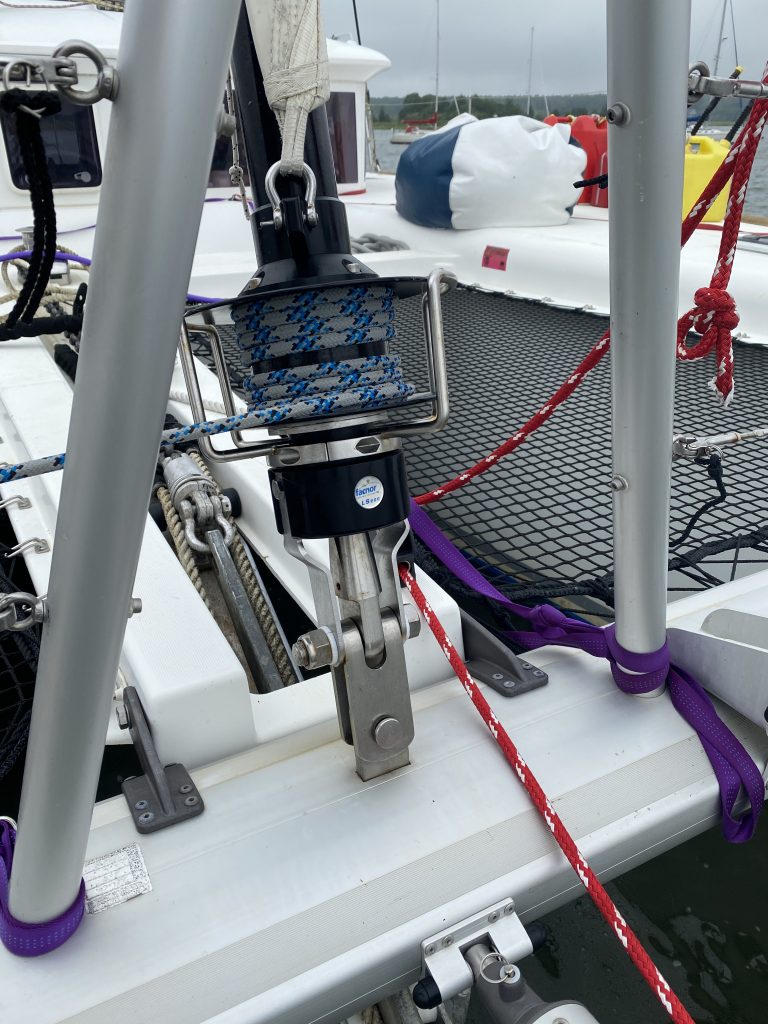 -Entire Rig – from port or starboard (try not to capture adjoining vessel rigging)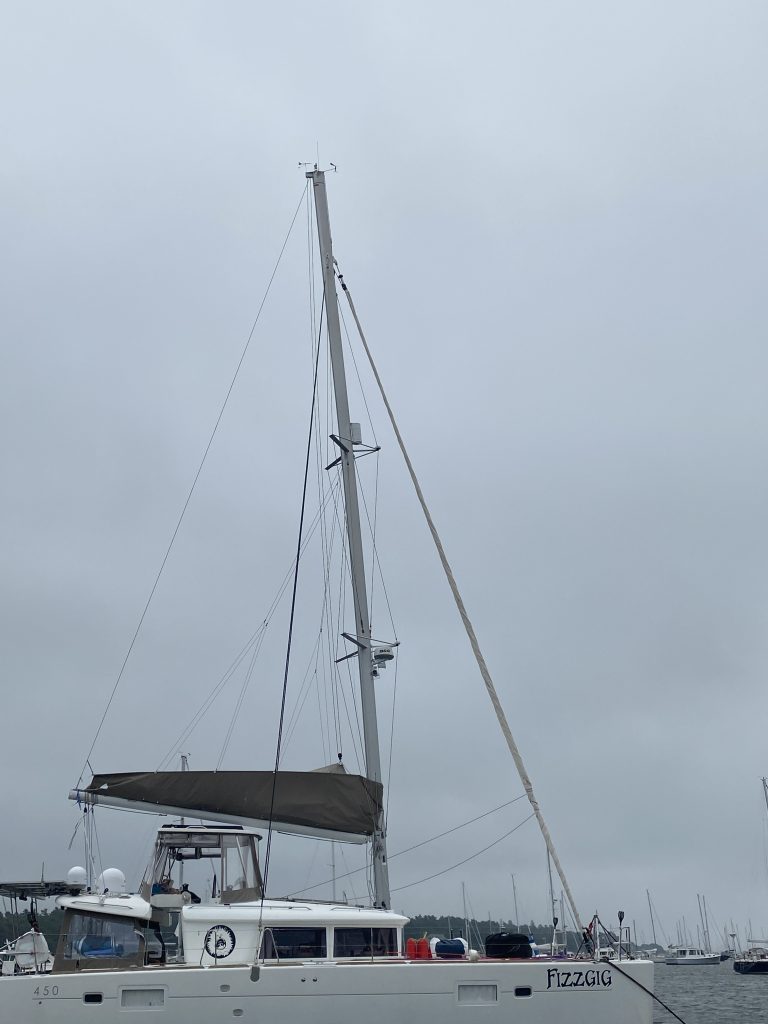 -Zoom in on turnbuckles along side deck from cockpit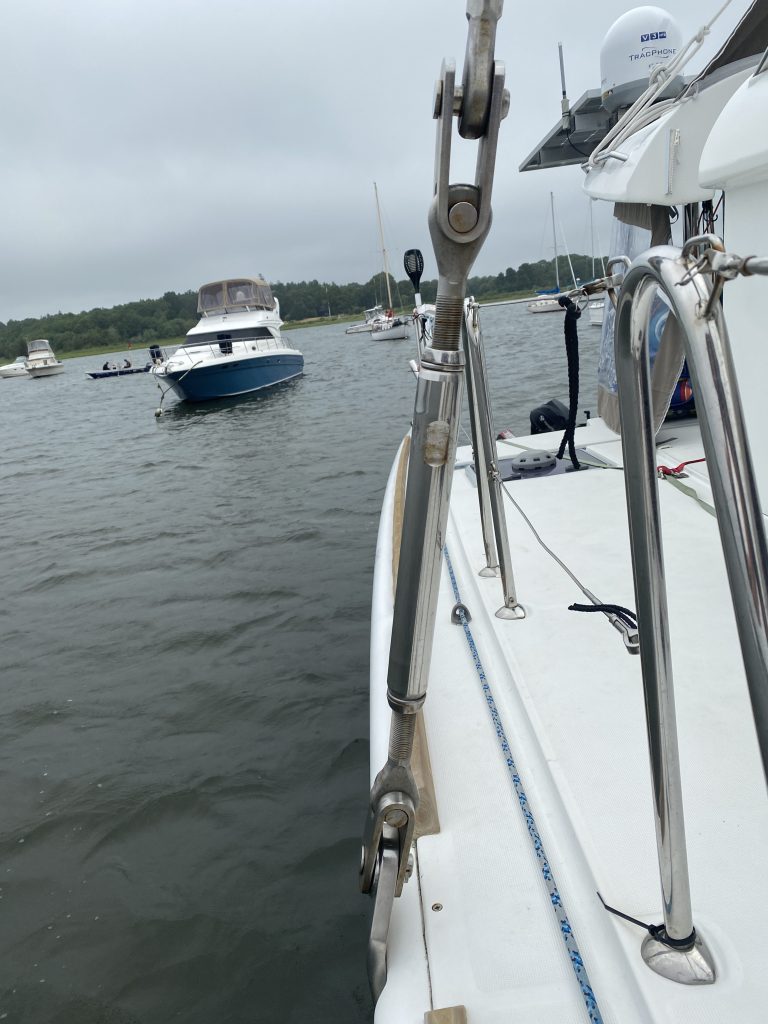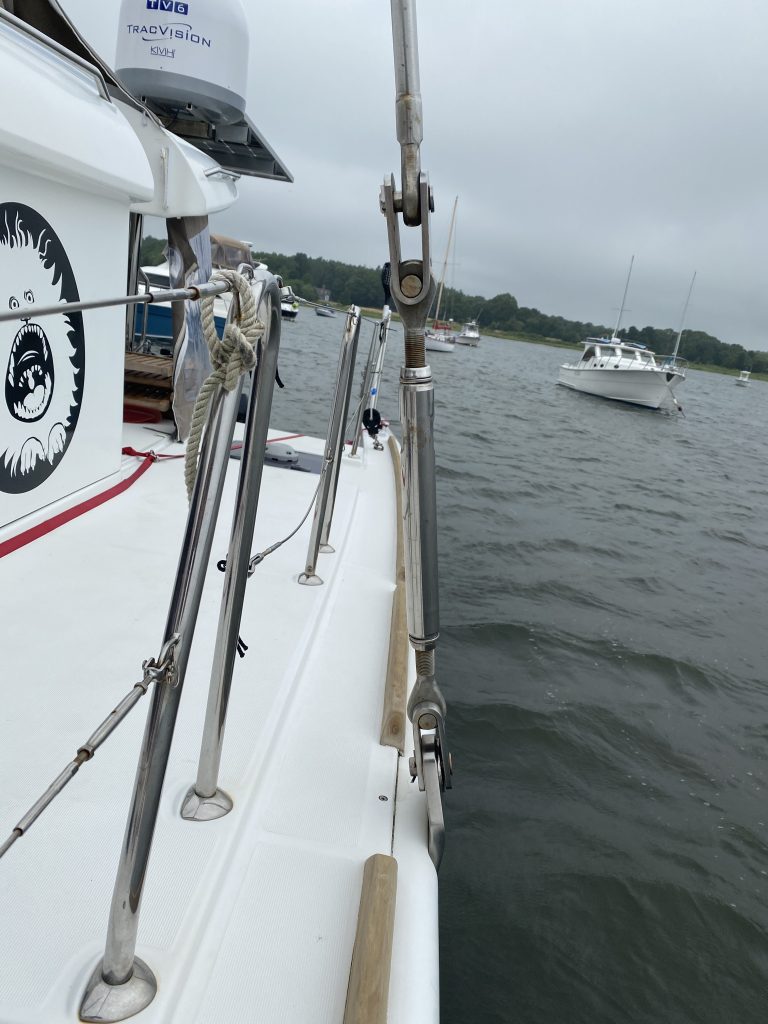 – Zoom in on masthead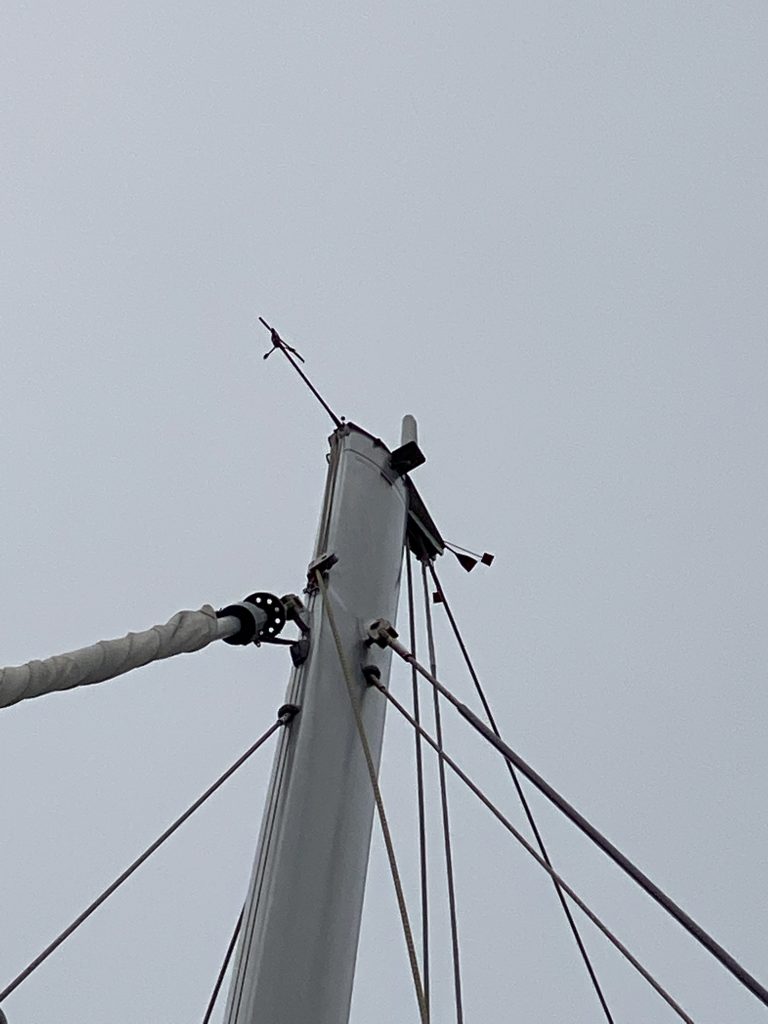 -Zoom in on shroud connections on mast under each spreader set
-Zoom in on shroud connections at cap shrouds on mast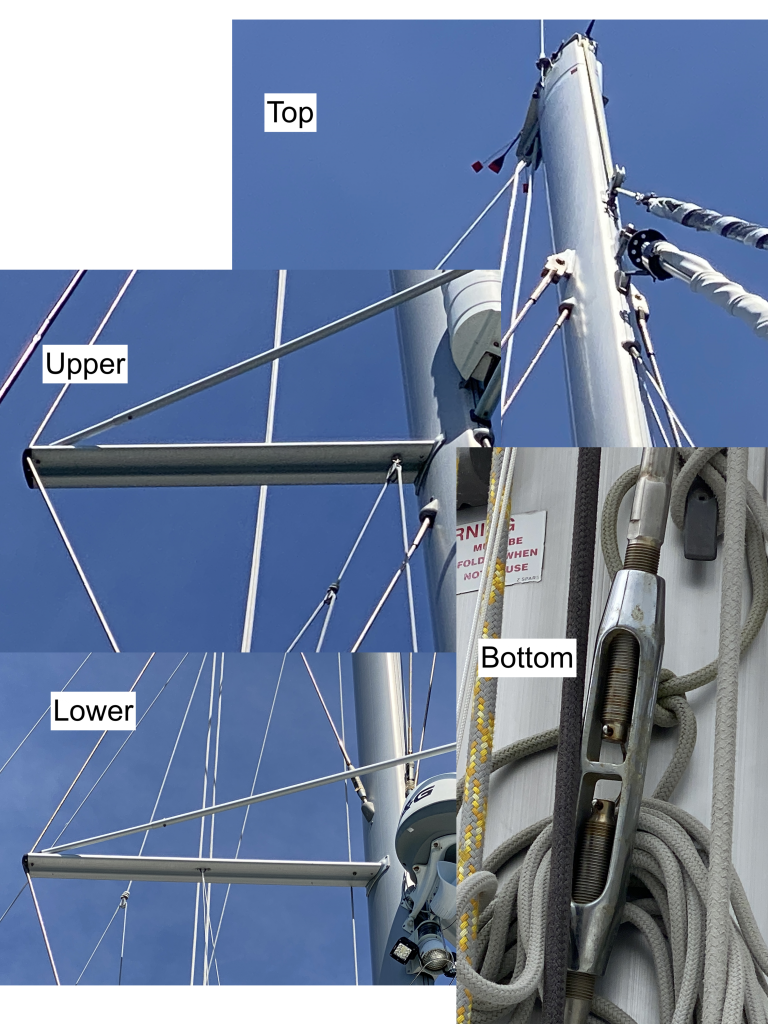 -Zoom in on trouble area/s
Trouble is internal
Additional information
History:
Fizzgig has had one owner before us.
We purchased the boat in December 2019
Purchase Survey is here.

In February of 2021 an issue was exposed where the main bulkhead beneath the mast was shown to fail in varying ways from slight bending of the bulkhead to shattering.

Our boat showed issues as well. Here is a report.

The manufacturer, after LOTS of work with them, eventually came out with an explanation of the issue here.
A reinforcement procedure was created for port and starboard (these are instructions for OUR boat.)

Pictures below (Our boat showing a slight bend to the starboard side bulkhead. Port was not impacted):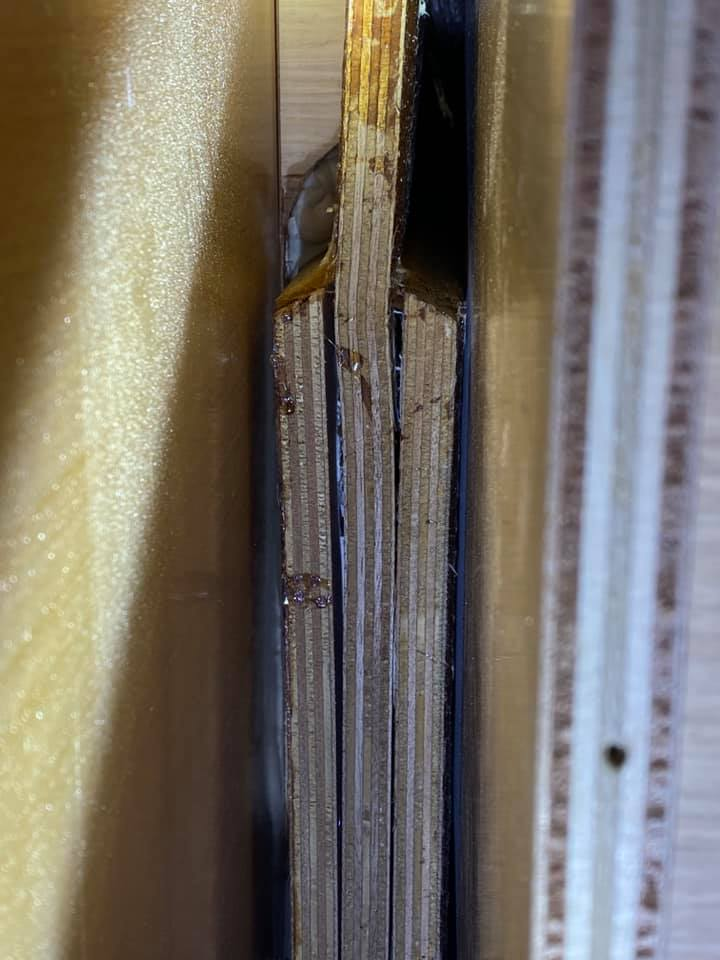 This is an extreme example showing a shattered bulkhead.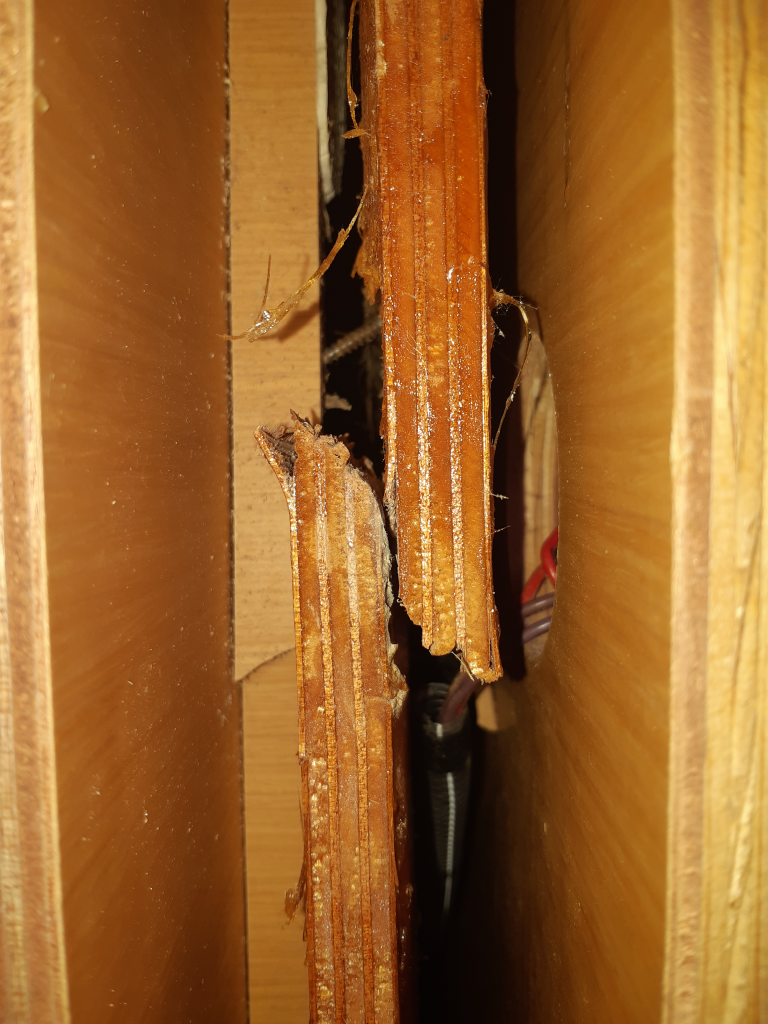 Sailboat Specifications
Hull Type: Catamaran Twin Keel
Rigging Type: Fractional Sloop
LOA: 45.80 ft / 13.96 m
Beam: 25.82 ft / 7.87 m
S.A. (reported): 1,398.00 ft2 / 129.88 m2
Draft (max): 4.27 ft / 1.30 m
Displacement: 33,075 lb / 15,003 kg
S.A./Disp.: 21.80
First Built: 2014
Builder: Lagoon
Designer: Van Peteghem-Lauriot Prévost

Auxiliary Power/Tanks (orig. equip.)
Make: Yanmar
Model: 4JH5E
Type: Diesel X 2
HP: 90
Fuel: 275 gals / 1,041 L
Sailboat Calculations
S.A./Disp.: 21.80
Rig and Sail Particulars
Mast Height from DWL: 76.55 ft / 23.33 m
Sailboat Accomodations
Water: 92 gals / 348 L
Sailboat Organizations
Designers: Van Peteghem/Lauriot-Prevost
Builders: Lagoon Catamaran
Additional Notes
Sail area:
Full-batten mainsail 79 m2 / 850 sq.ft.
Square top mainsail (opt.) 81 m2 / 872 sq.ft.
Furling genoa 51 m2 / 549 sq.ft.
Code 0 93 m2 / 1001 sq.ft.
Nauta Design