Everyone look closely. According to the CBP folks that 'shadowed us through the marina.' in their adorable police boat. We somehow entered Mexico and then came back into the United States.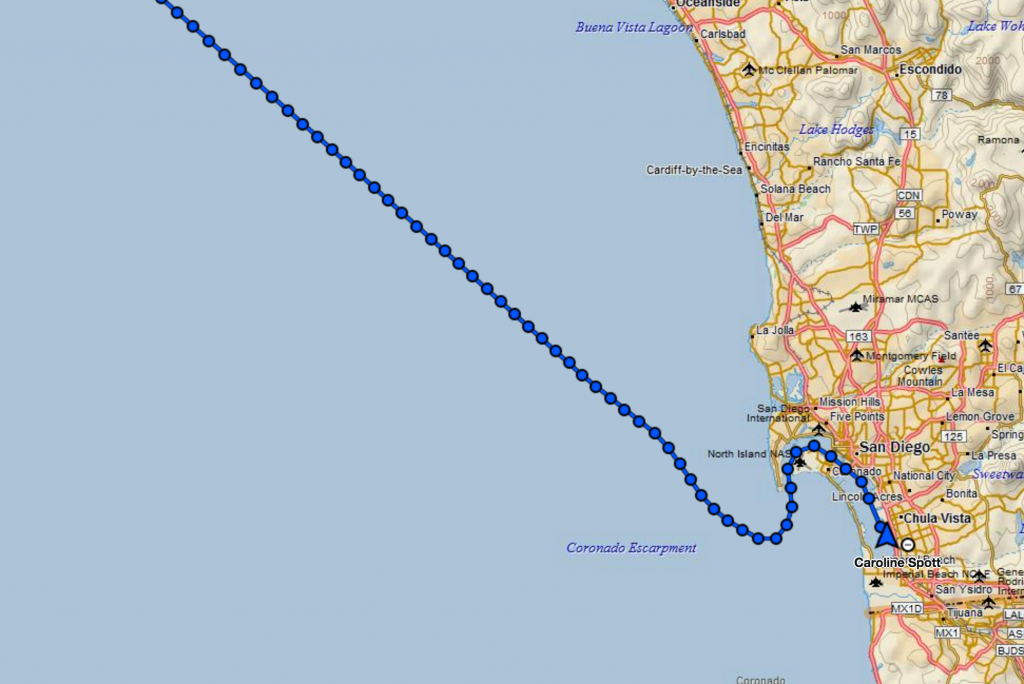 Interactions:
CBP: why did you go so far south to come into the Marina
Me: Because that entry (pointing 100 yards away) is the only way in here.
CBP: No the big marina
Me: What big marina.
CBP: The one you came into by (insert local landmark here).
Me: I have no idea what you are talking about. I just got here.
CBP: You know, where you came in about 2 hours ago.
Me: You mean San Diego BAY?
CBP: Uh, I don't know.
Me: Where the big Pacific Ocean meets this body of Water?
CBP: Yeah!
Me: I have to follow channel markers. 'cutting the corner' around the channel markers puts me at risk of getting into the surf and possibly dying.
CBP: I don't understand.
Me: My head damn near exploded.
---
CBP: Why are you coming in at 3AM?
Me: Because that is when we came in from Morro Bay, we have been sailing for over 2 days.
CBP: blank stare. No one comes in at 3AM.
Me: Have you ever flown on a red eye? People travel all the time.
---
CBP (while shining his OMG-THIS-IS-SO-COOL-I'M-A-COP-IT-HAS-A-BUTTON-ON-THE-END LED light at my face): Do you have any ID on you?
Me: Sir, I am am wearing flipflops and shorts. No, I don't have ID on me. It is in the boat.
CBP: Still shining light in my face. Yeah I meant in the boat.
Me: Aim your light at the ground or douse it. If I get blinded and fall into the water while mooring my boat I am going to be pissed.
CBP: Oh, sorry.
---
Me: Here is my ID.
CBP: Do you have any local ID?
Me: Dude, I just sailed here from Washington. I got here about 5 minutes ago so I have not yet had a moment to get ID from California.
CBP: Oh.. ok.
---
CBP: (While holding my Washington ID) So how was Portland?
Me: Portland is in Oregon. My ID shows I lived in Washington.
CBP: on the phone with some random dispatcher for 5 minutes asks me again. Did you stop in Portland on your way down?
Me: Sir, I don't know how else to tell you this but Portland is in Oregon and it would be almost a 2 day trip up the Columbia River to get there so no. I did not stop in Portland.
Local Law Enforcement hanging out with them: Snicker, dude, you have asked him that 3 times.
---
CBP: It is really hard to get to the marina we were at in the dark…
Me: uh, how did you get here?
CBP: We have a chart plot…. oh.
Me: Yeah, we have 4 chart plotters on board. The boat damn near drives it's self.
---
Yeah, we don't need a wall, we need these guys to have more situational awareness.
Overall they were pretty polite guys, just a little clueless. When I asked for a car they were a little shocked. I told them I liked to keep track of all of my law enforcement contacts.