When I was in college I had the opportunity to hear Douglas Adams, the author of the Hitchhiker's Guide to the Galaxy, give a lecture on, of all things, environmentalism. At the end of the lecture there was a Q and A period with the audience.
"Why a towel?" was asked by a burly gentleman with thick glasses and a fluffy towel tossed casually over his shoulder.
Mr. Adams answered, his wife believed there were two types of people in this world, those who always know where their towel is and those who don't. He is in the latter group. I am firmly in the first group.
Waponi Woo had a towel problem. My extensive collection of luxurious, terry cloth towels followed me from our house on land to our home on the water. In Washington, attached to a dock with cheap power and dehumidifier, they served us well. In Mexico, where we make our own power and water, they proved to be a little unwieldy.
It was with heavy heart I admitted a change was needed. Ryan's college roommate, Ben, visited us in February and brought with him a microfiber thing he called a towel. Ryan thought this was the way to go. I told him I no, I don't want to dry myself off with plastic; it is a textural thing, microfiber I am sure works great, I just don't want to use it for a towel. So, I started looking for alternatives and found a plethora of people using Turkish towels on boats. I decided this was the way to go and ordered some from a variety of vendors.
I received my towels at the end of April.
I love my Turkish towels.
They dry very quickly. (either on the line or on the low setting in the dryer)
They take up a lot less space.
They are handy as a swim suit cover-up as well as a towel.
I would recommend going the Turkish towel route for travel, camping, RVing, and boating.
Here are the towels I tried and what I recommend: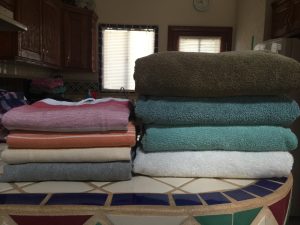 …if you haven't read, The Hitchhiker's Guide to the Galaxy, you should. Now. I mean it.